Top Seller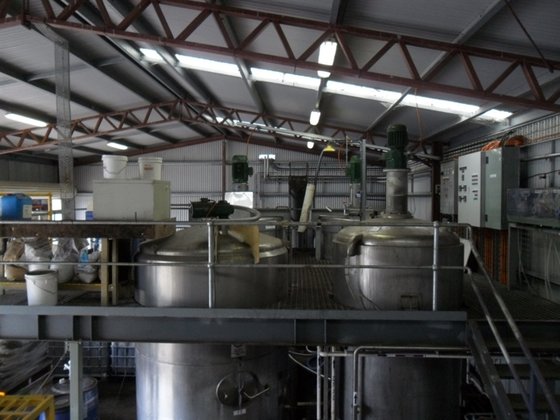 Liquid Fertilizer Plant ALFA LAVAL 10000 in Melbourne, Australia
Location:

Melbourne, Australia

Price:

Manufacturer:

Model:

10000
Interested in this machine?
Verified Seller
Specifications
Condition:

used

Stock number:

19484

Category:
Description
Liquid Fertilizer Plant - Capacity 10,000L/hr
This complete plant was running up until Feb 2013 and is capable of produicing 10,000L/hr of liquid fertilizer. The plant consists of the following:
- Fulvic Humic Batching Stainless Steel Tank farm with high speed agitators, consist of: 4,000L SS tank with 25kW Balanced high shear mixer, 3,600L SS Tank with 25kW balanced high shear mixer, 4,000L SS tank with 5.5kW agitator, 6,000L SS tank with 0.75HP agitator and 3000L insulated tank. Complete with Operating Platform / Stairs / Safety Railing.
- 18 assorted pumps for feeding, circulation and discharging. Suitable for water, acid and sludge.
- Automated Electrical Control Systems / Batch Controller / Flow Meters / pH meters / Temperature Gauges & Weigh Cells
- Alfa Laval Centrifuge, 2010 reconditioned conveyor and main bearings and balance, electric control panel, MACHINE TYPE: ALDEC 404
- Hopper & Screw Conveyor, Trojan electrical motor 7.5kW
- 10,000 L Stainless Steel Chemical storage tank
- 2 x Raypack Hot Water Boilers(Outdoor and Indoor unit) and transfer pump
- Waterways 1665/ 9100T twin tank alternating water softener, Waterways 1665/ 9100TF twin alternating deep bed filter
- Poly Liquid Storage Tanks 23,500L (rainwater), 2 of 11,000L HD Chemical, 5,000L HD Chemical, These tanks are one piece, self supporting roof type, Heavy Duty Chemical Tanks, with Stainless Steel 50mm outlet and closed manhole cover.
- Air Compressor, Large Industrial Atlas Copco GA208 = 8 Bar max. (800 kPa)
Plant is still insitu and buyer would need to remove. Located in Victoria and can be inspected on request.
Get email updates for Alfa laval 10000