Top Seller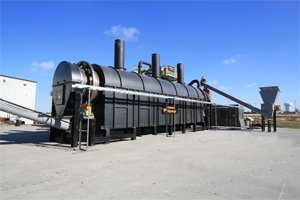 Location:

Moberly, MO, USA

Price:

Manufacturer:

N/A
Interested in this machine?
Verified Seller
Specifications
Condition:

used

Process:

removing and separating contaminants from soil, drying and heating a variety of materials, volume reduction of hazardous and non-hazardous wastes, cooling materials

Industrial use:

A thermal desorption system remediates contaminated soil. This unit is designed for processing a variety of types of soil, as well as cooling incinerator ash, limestone and coke from a calciner.

Listing number:

WWERKD015

Materials that can be processed:

soil, bulk solids, filter cakes, paste, sludge, alumina, carbon black, sodium chloride, plastics, pesticides, potassium chlorides, fine coal, petroleum coke, limestone

Subcategory:

Subcategory 2:
Description
Vulcan® Indirect Fired Thermal Desorption Unit - new 6' diameter x 35' long heated zone indirect fired 304 stainless steel rotary kiln with combustion chamber, a total of 16.2 MMBtu/hr. of North American combination fuel burners (pre-piped for oil firing), and gear and pinion sprocket drive powered by a 7.5 hp motor. Designed to remediate soils and drilling muds contaminated with petroleum hydrocarbons. Consists of the following components:
Feed System
- hopper, pugmill, transfer auger, airlock and feed auger
Primary Treatment Unit
- indirect fired stainless steel rotary kiln with combustion chamber
Quench Scrubber
- 5' diameter x 15' height x 3/8" thick plate, direct contact condensing tower with dual mist eliminator pads, six (6) easily serviceable atomizing spray nozzles and circulation tank
Knock-Out Pot
- vertically oriented vapor-liquid separator and condensing unit. The three helical tubes form the heat exchanger in the tower, which reduce shell side fouling and improve two-phase flow.
Oil/Water Separator
- 25 GPM maximum influent flow rate will remove 20 micron and larger oil droplets, producing an effluent quality of 10 PPM. Stainless steel construction, 20 cu. ft. coalescing media and 5 cu. ft. sludge hopper
Secondary Treatment Unit
- 7' square x 16' long x 3/8" steel plate chamber, ceramic fiber refractory lining, 16.2 MMBtu/hr. North American combination fuel burner (pre-piped for oil firing), capable of firing at high excess air to maintain chamber temperature
Air-Cooled Helical Rotary Liquid Chiller
- 155 nominal tons of cooling provided by dual compressor circuits. Hermetically sealed packages, factory-piped, wired, leak-tested and dehydrated
Induced Draft Fan
- variable speed exhaust fan by New York Blower with a 25 hp electric motor
Discharge System
- jacketed screw conveyor and airlock
Control Room
- 8' x 40', houses the programmable logic control, starters and variable frequency drives for operating and monitoring the plant from a single console. Two (2) fully-functional remote control panels are mounted outside for controlling right next to the equipment.
PROCESS DESCRIPTION:
Drilling mud, which is stockpiled by client, will be transferred to the feed hopper of the Primary Treatment Unit (PTU) with client's backhoe or skid loader. The material will be fed to a feed hopper mounted on a pugmill. From the pugmill, material is transferred to the feed auger via a transfer auger. The feed auger conveys material into the PTU and maintains a seal/airlock for the system.
The indirect fired rotary kiln has three heat zones. The operating temperature of the drum is up to 950 degrees Fahrenheit (510 Celsius). The rotary kiln is housed in a combustion chamber with six (6) 2.7 MMBtu/hour burners, totaling 16.2 MMBtu/hour of heat transferred to the rotary kiln. The kiln operates in an oxygen-deficient and slightly negative atmosphere. Vapors from the contaminated soil are pulled out of the system in a counter-current direction to the material flow.
The vapor from the primary unit is pulled into the high-efficiency quench scrubber that uses oil as the quench liquid. The quench operates at 250 degrees Fahrenheit (121 Celsius) and removes dust particulate, as well as condenses the heavier hydrocarbons in the vapor stream. The condensed oil and sludge are pumped through a set of filters to an oil/water separator and then to an onsite storage tank (to be supplied by client).
The vapor not condensed in the quench scrubber is pulled through the knock-out pot, our custom-built vertical helical heat exchanger, which reduces the temperature to 70 degrees Fahrenheit (21 Celsius). The fluid from the knock-out pot, condensed water and oil, is pumped to an oil/water separator, then to a water and oil holding tank (to be supplied by client).
The non-condensable gases are pulled from the knock-out pot by an induced draft fan and pushed into the secondary treatment unit, where all remaining hydrocarbons are destroyed at temperatures of up to 2,000 degrees Fahrenheit (1,093 Celsius) with a residence time of up to two seconds.
OPTIONS:
Caustic Scrubber
- optional caustic scrubber with mixing tanks, caustic spray manifold and circulation system
Heat Recovery
- heat recovery system using heat from thermal oxidizer to preheat combustion air in burners. This option can save up to 25 percent of fuel consumption in the system.
Waste Oil Burner System
- additional waste oil burner system consisting of waste oil burners, fuel train, filters and waste oil storage tank with heating elements. Reusing recovered oil as fuel source will drastically reduce fuel cost.
Discharge Quench
- The stack on the discharge auger can be fitted with spray nozzles alongside the length of the stack. The quench spray removes any excess particles from the gas stream before discharging the stream into the atmosphere.
Get email updates for agriculture