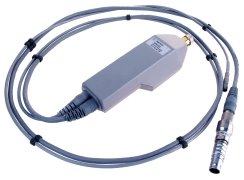 Location:

United States

Price:

$7,495

Manufacturer:

Model:

N5532A-550
Interested in this machine?
Specifications
Condition:

used

Status:

Discontinued

Division:

Test and Measurement

Subcategory:

Subcategory 2:
Description
Keysight / Agilent N5532A-550 Power Sensor Module 30 MHz to 50 GHz
In stock
The N5532A is intended to be used with the N5531S or the early N5530S Measuring Receiver System. It is essentially a power sensor with a power splitter at the input.
In use, the sensor module's two output cables are connected to a power meter (E4418/19, E4416/17, or N1911/12 Series)and the Performance Spectrum Analyzer (PSA) RF Input. When using an N1911 or N1912 Series power meter, it is necessary to use an adapter (N5532A Option 019) to connect the output cable of the sensor module to the power meter.
The sensor module is calibrated such that the power meter indicates the power supplied by the source under test.
The N5532A Sensor Module is offered in four frequency configurations:
Option 504 covers 100 kHz to 4.2 GHz
Option 518 covers 10 MHz to 18 GHz
Option 526 covers 30 MHz to 26.5 GHz
Option 550 covers 30 MHz to 50 GHz (with adaptor 11903D 2.4mm (f) to Type N (m))
The sensor module accurately measures power levels from -20 dBm to +30 dBm (10 μW to 1 W). Calibration Factor (Cal Factor) information is unique to each sensor module and is supplied on a floppy disc included with each N5532A.
Get email updates for Agilent N5532A-550