Top Seller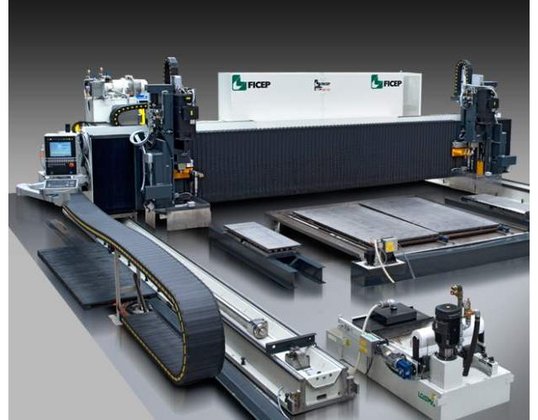 Location:

Perth, Australia

Price:

Manufacturer:

FICEP

Model:

TIPO G 402
Interested in this machine?
Verified Seller
Specifications
Condition:

new

Sku:

Ficep007

Tools:

3

Drills:

Yes

Division:

metal

Chip evacation:

Optimal

Plate width (mm):

4000

Secondary x-axis:

Yes

Plate length (mm):

6000

Subcategory:

Subcategory 2:
Description
Features include:
The G type plate centre is designed to comply with the different requirements needed in the drilling and milling of very large plates. It can process plates up to 4000 mm in width in the G 402 model and plates up to 6000 mm in the G 602 model. Thicknesses can arrive up to 200 mm ensuring high quality, precision, productivity and flexibility.
G type is a flexible CNC plate centre capable of complying with the requirements of bridge fabricators and all types of industry requiring a very intensive drilling activity in their plate components.
In fact this machine is ideal for Tube plate manufacturing. It allows you to stack plates one over the other and drill through the stack guaranteeing perfect matching between each finished plate.
The use of two independent drills with the U axis extra stroke gives unmatched productivity and flexibility to the centre reducing to zero the set up times.
No datum line is required due to the very advanced laser zero setting devices incorporated on each drilling head.
The secondary U axis and the laser zero devices imply no time consuming positioning of the plate on the table prior to drilling.
The frame is made of high resistance rolled steel sections, electric welded and stress relieved.
Another very innovative use of this machine is the edge milling of very long plates.
Typically web preparation or edge preparation for butt welding in the steel bridge applications "J" groves are preferred because they allow no backing during welding operations and more constant welding control. Not to mention the quantity of welding that is reduced dramatically and the deeper welding penetration achieved.
Sliding guides run on precision rolls; axis move by means of precision grinded ball screws. Any alignment and orthogonal operation is made through sophisticated precision laser equipments.
Get email updates for FICEP TIPO G 402