Top Seller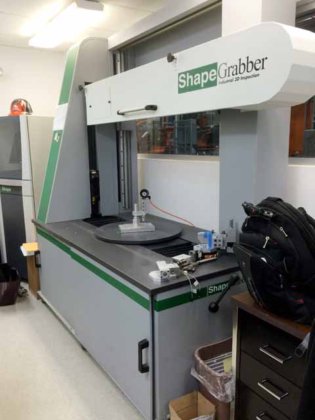 Location:

Lincolnwood, IL, USA

Price:

No price

Manufacturer:

N/A

Capacity:

200 lbs

Weight:

1600 lbs
Interested in this machine?
Verified Seller
Specifications
Condition:

used

Year:

2005

Serial number:

08730

Stock number:

inssgx

Footprint:

6'3"LR x 36"FB x 7'3"H

Sg502 scan heads:

30" cylinder height x 16" dia.

Sg1002 scan heads:

30" cylinder height x 24" dia.

Approximate weight:

1600 lbs

Sg502 scan heads 2:

48"L x 14" W x 16"D

Sg1002 scan heads 2:

48"L x 24" W x 30"D

Vertical rail motion:

30"/800mm

Horizontal rail motion:

48"/1250mm

High precision rotary table weight capacity:

200 lbs

Category:

Machine Tools equipment in United States

Subcategory:
Description
Equipped With:
The Shape Grabber Ai810C 3D Automatic Laser Scanner System Is Ideal For Quickly Scanning And Measuring Complex Shapes That Are Otherwise Too Time Consuming, Costly Or Simply Impossible To Measure. The Accuracy And Speed Of The Laser Scanner Precisely Renders Every Feature Of An Object Into A Three-Dimensional Model That Can Be Inspected For Defects, Further Augmented Or Reproduced As-Is. High Precision Rotary Table That Automatically Reorients The Part Being Scanned Through 360 Degrees. (2) SG502 Scan Heads. (2) SG1002 Scan Heads. Manuals and Drawings.
Get email updates for 2005 Shape Grabber Model Ai810C Automated Industrial 3D Laser Scanner System