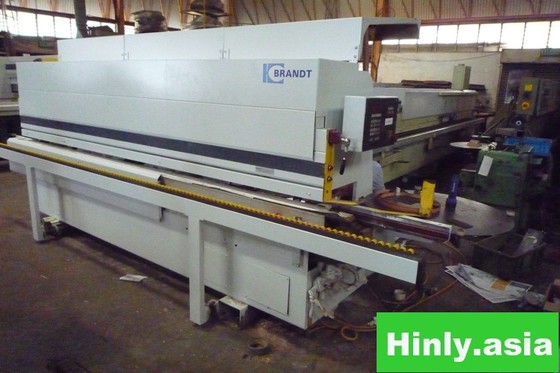 Location:

Johor, Malaysia

Price:

$25,390 (USD)

Manufacturer:

Brandt

Model:

KD67C
Interested in this machine?
Description
BRANDT OPTIMAT KD67C EDGE BANDING MACHINE
Single-sided edge bander in right hand execution for hot melt gluing, particularly designed for craftsmen' enterprises.
Quickly changeable gluing unit for hot melt glue.
Glue reservoir underneath the glue roller, therefore avoiding the possibility of spilliage into the machine.
Glue application to the workpiece by means of glue roller. No adjustment of the glue roller is required when changing the workpiece thickness.
The glue roller can be selected to rotate with or against the workpiece feed direction.
Glue temperature control by means of electronic thermostat. Automatic reduction of glue temperature upon interruption of the working process.
Infrared glue activation.
Automatic edge magazine for coiled material and fixed lengths incl. roller plate diam. 800mm
Standard equipment with panel and edge distance control incl. optic indicator
Equipped with heavy duty guillotine for cutting thick PVC/ABS from the coil max. 3 x 45mm
Heavy pressure zone with driven, pneumatically actuated main pressure roller and 2 idle post pressure rollers.
Standard equipped with central lubrication of chain track by hand.
Central adjustment of top pressure beam.
Integrated line control for controlling the different working functions. To be adjusted by means of a key board and LED display.
Electric equipment with a modular control system for easy service.
Standard equipment
----------------------------
End trim unit chamfer / straight for end trimming the front and rear edge over-hang with drawing cut for a high degree of precision.
Edge dimensions : max. 8 x 45mm
2 motors 0,27 kW ea., 200 Hz, 12.000 rpm
tiltable straight to chamfer 0 - 15 degrees
equipped with 2 end trim saws diam. 100 x 32 x 2,
6mm T = 30
Flush trimming unit top and bottom vertically and horizontally sensing
Swivelling range 0 - 15 degrees
2 motors each 0,40 kW, 200Hz, 12.000 rpm
equipped with 2 combined cutters radius /
straight diam. 56 / 50 x 16 x 16mm, T=4, r=3mm
Contour trimming unit, top and bottom, for contour trimming of head edges on post and softforming panels and rounding off thick PVC edges. Wooden edges only possible under certain conditions, depending from trials.
2 motors 0,35kW ea., 200Hz,12000 rpm.
Edge thickness max. 3mm (radius)
Standard equipment with 2 off reversible radius
cutters, r=3mm, diam. 73 / 61 x 16 x 16 mm, T=3
Scraping unit for PVC edgings
Sensing from top, bottom and laterally, for rounding off roughly trimmed PVC edgings.
Edge thickness max. 3mm
Equipped with 2 reversible profile knives
r = 3mm
Buffing unit 2 motor for smoothing off the edges top and bottom.
2 motors 0,09 kW ea., individually suspended,
tranversally and height adjustable.
2 molton wheels diam. 120 x 20mm
Sound protection hood incl. central dust extraction socket diam. 100mm
Admitted temperature tolerance min.+5 degrees max. +35 degrees.
In case of main voltage fluctuations of more than +/- 10%, a voltage stabilizer must be
installed at customers' site
Machine supplied into EU member countries are built acc. to EU safety regulations
89/392/EWG
TECHNICAL DATA
----------------------------
Edge thickness : 0,4 - 8mm
Coil cut-off max. : 3 x 45mm
Workpiece thickness : 8 - 40mm
Workpiece width : min. 65mm
Workpiece length : min. 160mm
Feed Speed : 11m/min
Electrics : 400V-3Ph-50Hz
Air connection : 6 bar
Conn value : approx. 7kw
Total machine length: 5.240mm
# SSU-00047-1F
Machine is in working condition without new paintwork and guarantee.
Get email updates for Brandt KD67C