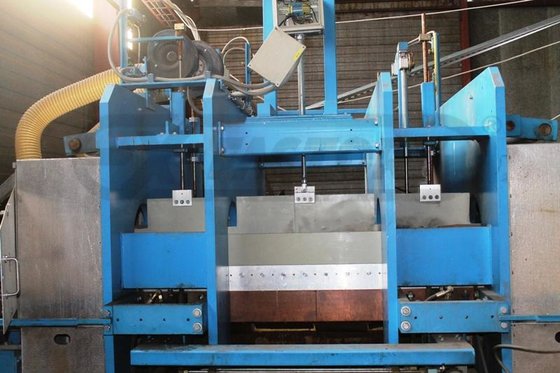 Location:

Finland

Price:

$382,723 (USD)

Manufacturer:

Model:

5 MILLION SQ FT
Interested in this machine?
Specifications
Condition:

used

Recnum:

PB-010190

Comments:

A great business potential just waiting for the right Buyer!

Machtype:

ENGINEERED HARDWOOD FLOORING PLANT

Condition info:

(3-6) Good Condition [6]

Current status:

Active

Elect./voltage:

220/380 V, 50 Cy, 3 Ph.

Appr. repl. cost:

2e+006

Category:

Complete Plants in Finland

Subcategory:
Description
RAUTE "Engineered" Flooring Plant, takes veneers and lumber to manufacture Plank Engineered Flooring to your specifications. The product is comprised of (3) layers utilizing a softwood composed "lumber core" or "blockboard core", an economical softwood veneer bottom, and a Beautiful Hardwood Veneer on the Top Face. The operation will easily produce a half million square meters ( 5,381,955 Sq Ft.) operating only 220 days per year at (3) shifts per day. It is possible to triple that capacity with the addition of (2) more Press Lines. This Parquet Product Plant is complete (see notes) with the following major components:
-- Automated Lay-up with Vacuum Carriage.
-- Press Line currently configured with (1) Press with automated loading and unloading and 120 kW high frequency generator and electrodes for fast glue curing.
-- Saw Line with (4) Side Tongue & Groove Machine.
-- (3) Head Sander.
-- CAPACITY SPECIFICATIONS: Size of lay-up about 610 x 2110 mm.Height of 6-layer parquet lay-up about 32 mm (stacked (2) planks high ready for pressing).Size of sawn raw parquet plank 199 x 2100 mm.Finished Size of parquet about 199 x 2045 mm.Thickness of parquet about 16 mm.Number of parquet planks per pressing: 6 pcs (per press).Specific pressure over lay-up is 15 kg/cm².Cycle time 1.6 minutes per pressing.Cycles per hour: Approx. 40 (per press).Capacity per hour 240 planks per hour (per press).Capacity per year 500,000 m² (per press).
-- PROCESS DESCRIPITION:
-- LAY-UP STATION STEPS: First, vacuum cups place the back veneer onto the press infeed conveyor, then glued blockboard core is placed over the back veneer, then one face veneer layer (not glued together) is placed carefully onto the core layer. That makes up the first of two complete parquet units. A second face veneer layer is placed onto top of the first face veneer layer. (Thus, there are two top faces facing each other.) Next, a second glued core layer is placed onto the second face and finally the second back veneer is placed over the second core. Therefore, the two outer faces in the bunk are actually bottoms assuring better condition control of the final face veneers. The lay-up bunk or stack has six total layers making two complete boards before it enters into the press and total thickness of the lay-up stack is approximately 32 mm.
-- PRESS LINE STEPS:A belt conveyor transfers the lay-up into the press. When the lay-up is inside the press, it is pressed upward against the top press platen. However, before the final closing of the press, the press side and end pressure devices are activated to close any gaps between the (3) made up bunks. The maximum upward specific pressure is 15 kg/cm² upon the lay -up. The 120 kW high frequency generator and electrodes provide rapid curing of the glue previously spread upon the core layers. After pressing the cured plank is moved out of the press and next lay-up is simultaneously transferred into the press.
-- SAWING, TONGUE & GROOVING, & SANDI
Get email updates for RAUTE 5 MILLION SQ FT