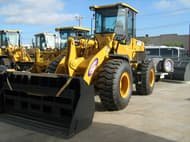 Location:

Victoria, Australia

Price:

$51,020

Manufacturer:

Model:

AL938LE 13.5 TONNE
Interested in this machine?
Specifications
Condition:

new

Year:

2017

Stock number:

0042A

Size:

13.5 TONNE

Hours:

0

Brakes:

AIR / HYDRAULIC

Colour:

YELLOW

Tow bar:

YES

Warranty:

3 YEAR / 3600HRS

Erg class:

96kW-114kW Net Power ISO

Steering type:

HYDRAULIC ARTICULATED

Condition info:

Excellent

Engine; cylinders:

6

Engine; fuel type:

Diesel

Maximum operating:

13500

Engine; max torque:

TBA Nm at RPM

Engine; engine make:

CUMMINS

Cabin features; rops:

Cab with ROPS

Engine; engine power:

150

Cabin features; radio:

YES

Engine; fuel capacity:

140L

Tyres & wheels; size rear:

20.5 R25

Tyres & wheels; size front:

20.5 R25

Hydraulic system; pump type:

GEAR DRIVEN HYDRAULIC

Transmission; gears forward:

4

Transmission; gears reverse:

3

Tyres & wheels; spare tyres:

OPTIONAL

Tyres & wheels; type - rear:

BIAS

Tyres & wheels; type - front:

BIAS

Tyres & wheels; condition rear:

NEW

Transmission; transmission make:

ZF

Transmission; transmission type:

ELECTRONIC POWERSHIFT

Tyres & wheels; condition front:

NEW

Cabin features; air conditioning:

YES

Transmission; transmission model:

ELECTRONIC POWERSHIFT

Cabin features; sound level in cab:

TBA DB

Hydraulic system; max l/min - pressure:

180L/min kg/cm2

Hydraulic system; remote outlets std/max:

1
Description
ALL NEW!!! AL938LE WITH 150HP CUMMINS ENGINE. BEST BUYING LOADER! SAFE WORKING LOAD 3.8 TONNE. EXTENDED LOAD FRAME. WE WILL NOT BE BEATEN ON PRICE OR VALUE. FINANCE AVAILABLE FROM AS LITTLE AS $350.00 PER WEEK, TAP, CONDITIONS APPLY.
TOP QUALITY LOADER AT DISCOUNTED PRICE. ROPS CAB. NEW 4 SPEED TRANSMISSION!!! BEST VALUE!!
LIMITED STOCK!! DON'T MISS OUT!! OPPORTUNITY TIME!!
3 YEAR / 3600HR WARRANTY!!!
DEALERS REQUIRED NATIONWIDE!!! CALL US NOW!!
The AL938LE Wheel Loader is built to our specific requirements and handles Australian conditions and climates.
This Wheel Loader is sold complete with a
General Purpose bucket, Quick Hitch, 3rd Valve,
Forks , all at an exceptional price.
Optional extra's available include heavy duty Rock Bucket's,
4-in-1 Bucket's, Large Grain Bucket's,
plus a variety of optional attachment's.
A world class Wheel Loader with a stylish appearance and excellent performance, are just an example of the great attributes belonging to the AL 938LE.
AL 938LE Wheel Loader Features:
- Stylish Appearance
- Comfortable Cabin - Luxury and commodious cabin with wide viewing windows, air-conditioned and heated cabin, integrated ROPS, and designed for shock absorption, provides a comfortable and safe environment for the operator.
- Cloth Suspension Seat
- Standard Stereo Package
- Pilot Operated Joystick Control
- Tilt Steering
- Air Operated Emergency / Park Brake
- Front and Rear Wipers
- Cummins Engine (Backed by Cummins Australia)
- 4 Speed ZF Transmission
Due to continual advancements in technology, are constantly improving their quality Wheel Loaders. Therefore the information and pictures shown should be used as a guide only.
Get email updates for Cummins AL938LE 13.5 TONNE